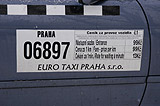 We already wrote about the bad experience of foreign tourists with Prague taxi drivers who damage the reputation of the city. Many taxi drivers, especially in the centre, charge much more than they should or they give you a receipt that does not have all the essentials. Czech newspaper MF Dnes brings advice what to do when taking a taxi in Prague.
Instead of taking a taxi on the street, use the marked taxi station or order a taxi by phone and ask the name and number of the driver.
When getting in the car, you can write down the registration number and the number on the door. If the drivers reacts negatively, leave the car.
The maximum rate in Prague in 28 CZK/km. Be also careful at the chancing rate of some taxi drivers – you pay more in Euros then in Czech currency. Current exchange rate is about 28 CZK per EUR. After getting in the car, ask the driver about the approximate cost.
Check the taximeter whether it is working. If you think that you have to pay too much, check the receipt, whether the driver charged you the standard tariff.
Make sure that the receipt contains personal details of the driver. If the driver refuses to give you the receipt, make sure you know the registration number and the number on the door.
Prague Municipal Council Lost to Taxi Again [November 22 2007, 08:54 AM]
Fair taxi in Prague from 'Fair Place' taxi stands [August 1 2007, 09:59 AM]
Taxi from Prague's Old Town Square for 28 CZK now [April 20 2007, 10:10 AM]
Prague's taxi drivers file a lawsuit [February 14 2007, 11:16 AM]
Prague's taxi drivers protest [January 18 2007, 11:06 AM]
How to avoid being rubbed by taxi drivers in Prague? [January 16 2007, 13:00 PM]
Fight against the overcharged taxi services [December 19 2006, 12:16 PM]
Changes in taxi services in Prague [December 12 2006, 14:15 PM]
Prague taxi is one of most expensive in Europe [August 23 2006, 12:18 PM]
Prague taxi will be more expensive [July 19 2006, 13:47 PM]
Time Navigation
Newer articles:
Older articles: