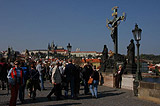 Unknown offender has damaged one of the statues on famous Charles Bridge in Prague. It was the statue of The Crucifix and Calvary. The offender destroyed a part of the Hebrew bronze inscription saying "Holy, holy, holy is the Lord of Hosts".
The inscription is controversial because it is against Jewish belief. It was made by Prague Jewish Elias Backoffen as a punishment for alleged debasing of the Holy Cross. At the request of North American rabbis the Prague's Lord Mayer had to place an additional board with explanatory text near the inscription in 2000.
Although making a copy of the inscriptions will not cost much, the historical loss is incalculable. The deed is now being investigated by the police.
Time Navigation
Newer articles:
Older articles: