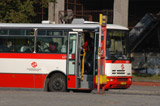 Prague Public Transit Co. announced that the number of request bus stops will increase from 4th March. There will be 143 new request bus stops, 8 of them will be on request over nights and weekends only.
More request bus stops should speed up the bus transport, lower the exhausts fumes and the noise near the stops. Every request bus stops is marked "Na znameni".
Request bus stops will be in almost all Prague districts. When waiting for a bus at a request bus stop, travellers have to flag down the driver. When riding on the bus, passengers have to push the stop button.
Time Navigation
Newer articles:
Older articles: