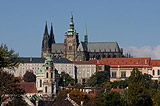 St Vitus Cathedral in Prague is visited by about 4,000 people a day. It belongs among the most popular monuments in Prague. It also contains the graves of great Czech kings and princes. It is no wonder that media are interested in the discussions between the state and the Church about the ownership of the cathedral.
Even though the Supreme Court decided in favour of the state, the Church resists to hand over the cathedral. Visitors still have to wait for cancelling the entrance fee to the cathedral as promised by the state. Today's meeting of the state and Church representatives led to the agreement about the tranfer of the cathedral, but it's still not clear when it will happen.
The President of the Czech Republic, who is now visiting the USA, expressed his astonishment about the situation. He said that he was shocked by the dramatic discussions about the cathedral. As the president is not a participant of the litigation, he cannot intervene in the discussions.
Time Navigation
Newer articles:
Older articles: