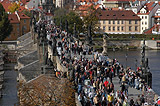 The oldest and most popular bridge in Prague, Charles Bridge, with valuable statues have been damaged several times. Pieces of statues were broken or torn off by unknown vandals. The situation should be better by the end of March.
The police will monitor the bridge by 10 new cameras 24 hours a day. Now there are only two old devices that do not record the picture. There are also 2 police officers patrolling on Charles Bridge now. Their number will be doubled. Also patrols at night are now under consideration to stop the vandalism on the bridge.
The increased security measure are the result of an recent attack when an unknown delinquent destroyed the Hebrew inscription on the Statue of The Crucifix and Calvary. Scuba divers were searching at the bottom of the river to find some fragments of the statues. Their searching, which stopped today, was quite successful.
Time Navigation
Newer articles:
Older articles: