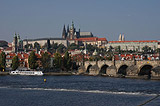 Panorama of Hradcany with Prague Castle together with Charles Bridge can be seen from now on on a airplane of Travel Service company. The plane will represent the Czech capital all over the world.
The airplane with the large picture of Prague's dominants on its fuselage will travel to 230 cities on four continents. The first flight of the planes will be to Hurghada in Egypt.
"The airplane is an extraordinary advertising hoarding. It will become a kind of a magnet, especially for those who haven't seen Prague yet," said the Deputy Lord Mayer of Prague Rudolf Blazek.
Related Articles
Time Navigation
Newer articles:
Older articles: