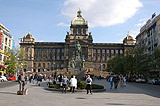 The main building of National Museum on the top of Wenceslas Square in Prague is temporarily closed due to regular upkeep of its collections. The collection of the museum will be sprayed with insecticide.
The museum is closed from today's morning. It will open its gate again on Saturday 17th March at 13:00. On Saturday 21st March the museum is open only until 14:00 and on Friday 30th March until 15:00.
On Sunday 18th March visitors have the last chance to visit two exhibitions of the National Museum. The first one shows a piano connected with the name of Wolfgang Amadeus Mozart. The second exhibition focuses on Charta 77 and its 30th anniversary. The exhibition The Hunters of Mammoths is open till 2nd September 2007.
Johannes Kepler museum to open in Prague [January 26 2009, 09:23 AM]
Czech National Technical Museum Reconstruction [October 2 2008, 17:26 PM]
Growing Interest in Industrial Sights – Prague builds modern Industrial Museums [August 5 2008, 15:57 PM]
The National Museum closes many departments during summer [July 24 2007, 10:06 AM]
Don't miss museums in Prague for free [May 21 2007, 10:05 AM]
Langweil's model of Prague on display again [April 12 2007, 16:19 PM]
Twelve museums in Prague with one card [March 26 2007, 14:36 PM]
Langweil model of Prague will be displayed again [March 23 2007, 16:43 PM]
Main building of the National Museum temporarily closed [March 15 2007, 09:58 AM]
Langweil model of Prague will be digitized [February 7 2007, 13:42 PM]
Reconstruction of the National Museum [December 14 2006, 13:38 PM]
Museum complex on Wenceslas Square [November 15 2006, 11:22 AM]
National technical museum will be closed for year and a half [September 6 2006, 16:34 PM]
A dinosaur might be coming to Prague [July 28 2006, 11:05 AM]
National museum falls [July 12 2006, 21:35 PM]
Time Navigation
Newer articles:
Older articles: