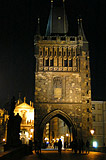 Old Town Bridge Tower, one of the two towers near Charles Bridge in Prague, will be closed for two days due to general cleaning and regular maintenance before the main tourist season. The tower will be closed on Monday 19th and Tuesday 20th March 2007.
The most recent changes at the tower happened last year when three old statues of St Vitus, St Charles IV and St Wenceslas IV were replaced for new ones. They are stone replicas of Peter Parler's original statues.
The Old Town Bridge Tower contains a viewing gallery that provides a good view of Prague Castle and the Lesser Town. The entrance fee to the tower is 60 CZK.
Time Navigation
Newer articles:
Older articles: