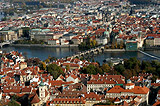 The big event, eagerly anticipated by many sportsmen and sportswomen, the Prague International Marathon, is held already this Saturday in the centre of Prague. Especially drivers in Prague can expect several restrictions.
The route starts in Charles Bridge, it continues via Knights of the Cross Square, nabrezi Kapitana Jarose, Cechuv bridge, Libensky bridge, Karlin and back to the city centre via streets Revolucni, Na Prikope and Narodni trida. From Rasinovo nabrezi, via Palackeho bridge, the marathoners will run to the end of the competition in Jan Palach square where Rudolfinum is seated.
Most Legii will be closed from 12:45 to 15:00, Smetanovo nabrezi as well as Knights of the Cross Square and Jan Palach square will be closed for cars from 11:45 to 15:00. Tesnovsky tunnel will be closed between 12:15 and 13:15 and Cechuv bridge from 11:45 to 12:30.
Time Navigation
Newer articles:
Older articles: