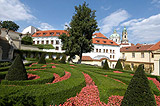 The date 07/07/07 is a magic date for many couples who want to get married. Also other dates in summer are already booked up. The town hall in Prague 11 decided, therefore, to organize the first collective wedding ceremony.
Up to 50 couples will be married near Chodovska tvrz in Prague 11. The couple will say their 'I do' on the popular date 7th July. Other town halls will solve the situation in another way, they will solemnize from dawn to dusk.
The couples chose various places in Prague for their wedding ceremonies, such as Vrtba garden in Lesser Town, Old Town City Hall in the city centre, royal park Stromovka, Letna gardens or most recently also in the Zoo in Prague. Read more about Czech traditions on weddings.
Related Articles
Time Navigation
Newer articles:
Older articles: