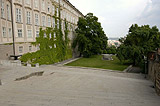 The tourist summer season starts in one week, namely on the 1st April, and finishes at the end of October. Many monuments and places will be open again or their opening times will be prolonged.
The garden below Prague Castle will be open again on Sunday 1st April. They are now cleaned and checked, just like the Wallenstein Garden and Vrtba Garden. Old Town Bridge Tower near Charles Bridge will newly show a short film about Charles Bridge in two new language versions.
Prague Castle complex will be open from 6:00 until midnight. Buildings and places where tickets are required will be open from 9:00 to 18:00. Funicular Railway to Petrin Hill is now closed due to maintenance, from 31th March it will go in the intervals of 10 minutes. From 1st April you can also use a Troja card, that enables you the entrance to Prague Zoo, Botanical Garden in Troja and nearby Troja chateau.
Related Articles
Time Navigation
Newer articles:
Older articles: