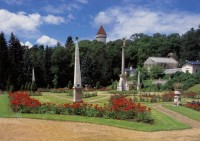 Many castles and chateaus in the Czech Republic will open their gates after several winter months at the beginning of April. Several of them will offer special events during the summer.
Krivoklat is open from 1st of April and already from 7th to 9th April you can visit there 'Castle Easter' with Easter markets, concerts, mass, and theater performances. During summer visitors can look forward to many festivals and other events.
Koneprusy caves, about 30 kilometers from Prague, will be open for the first time this year on 31st March. This largest system of caves in the Czech Republic will be open to the public every day, including holidays. In April, May, June and September the caves are open from 8:00 to 16:00, in July and August from from 8:00 to 17:00. In October only to 15:00.
Karlstejn Castle is one of the best-known castles in the Czech Republic. It is open from the 1st March 2007 until the 6th January 2008 (except the 10th April 2007). All tours at State Castle Konopiste near Prague will be open to the public from 1st April.
Related Articles
Time Navigation
Newer articles:
Older articles: