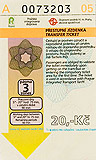 The Prague Public Transport Company changes the Contractual Transport Conditions concerning the Prague public transport from the 1st April 2007. What does it mean for travellers?
Passengers can transfer more bicycles in the vehicles (2 bikes in the back of the carriage). Skis more then 150 cm long can be transported only in a cover. All monitored areas (e.g. in metro) have to be clearly indicated. Some seats in buses may be limited by age or height of passengers. In case the traveller has a forged ticket, he/she will pay 950 CZK extra charge.
Up-to-date Contractual Transport Conditions will be available in carriages, in metro stations, funicular railway to Petrin, in bus and trams stops, or on websites of Prague Public Transport Company.
Information about public transport in Prague can be also obtained via mobile phone on wap.dpp.cz.
Time Navigation
Newer articles:
Older articles: