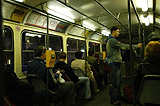 The Prague Public Transit Co. has a new director general. His name is Martin Dvorak and he used to be a head of the commercial TV Prima. His aim is to make the public transport more effective.
There was an organizational audit in the Prague Public Transport Co. and it revealed, that about 1000 employees should be fired. The company gets about one third from the budget of the City of Prague. The new director general hopes, that he can ensure more vehicles and more restored stations for such money.
Among the things, that need to be improved, is for example the lack of ticket machines on the stations of public transport or the too old trams in service in Prague.
Time Navigation
Newer articles:
Older articles: