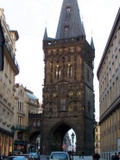 After a pause during the winter, you will now have a chance to see many important historical monuments in Prague. Those, which are accessible the whole year, will have longer opening hours now.
The Powder Tower in the Old Town in Prague will open again and there will be a new exhibition: it will be about the Royal Court, the former residence of Czech kings, that used to stand nearby.
Newly open will be the Lesser Town Bridge Tower with the information centre inside and also the tower of the St. Nicholas Church at the Lesser Town Square.
The sights, that were closed during the winter, include the Ctenice Chateau with its exposition on Habsburgs in Czech lands and with the collection of historical carriages.
A new private museum will open in the Lobkowicz Palace at the Prague Castle. It will display the most valuable private aristocratic collection in Czech lands – the collection of the noble family of Lobkowicz.
The Prague Castle is open the whole year, but the gardens below it will be accessible since April.
Another novelty is the historical tram number 91, which will start driving through Prague streets on 31st March. Also the museum of Prague public transport in Stresovice depot will open now. The Petrin funicular, which was closed for restoration, will start operating again already today.
Time Navigation
Newer articles:
Older articles: