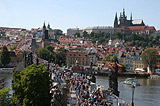 Prague is crowded by thousands of tourist every year during Easter holidays. This year more than 70,000 tourists are expected. Unfortunately, Prague will be also full of pickpockets whose methods are improving.
To fight with organized groups of pickpockets who can be seen on popular tourist destinations, such as in front of the Astronomical Clock in Old Town Square, Charles Bridge or The Royal Route, 250 police officers (50 more than usual) will stroll daily the streets of Prague from Easter until the end of September.
To recognize pickpockets is really difficult. They are mostly dressed like tourists. They are often in shopping centres, near the stands with refreshment or in public transport. Their popular tram lines are no. 22 and 23 that go via stop Prazsky Hrad (Prague Castle).
Related Articles
Time Navigation
Newer articles:
Older articles: