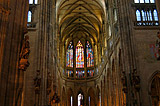 When St Vitus Cathedral at Prague Castle was still in the property of the state, tourists had to pay only when they also wanted to see the crypt and the South (Bell) Tower, which is accessible for safety reasons only in good weather. When the cathedral belonged to the Church, visitors had to pay 100 CZK to see the interior of the Church.
From today tourists can admire not only the interior of the most famous and for Prague's Catholic Archdiocese the most important cathedral, but also the crypt and the tower for free. St Vitus Cathedral will be officially handed over to the state on 16th April.
St Vitus Cathedral will be open to everybody and won't be included in Prague Castle tours. However, the number of tourists must be regulated in the tourist peaks, maximum of about 500 people at a time.
Time Navigation
Newer articles:
Older articles: