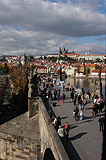 As we have already informed, Charles Bridge in Prague is monitored now by 10 new security cameras that improve the protection the oldest bridge in Prague. But that's not all. A new invisible "electronic fence" was installed to protect the statues on the bridge that have been attacked many times.
The fence will alarm the police that will be on the spot within one minute. Tourists can feel free to sit on the railing of the bridge but climbing to the statues is prohibited. Alarm can be also set off by a bird, however, the police can check the situation on the screen first.
The new electronic system may protect other statues and important monuments in the future, such as the Statue of St Wenceslas in Wenceslas Square or the Statue of Jan Hus in Old Town Square.
Time Navigation
Newer articles:
Older articles: