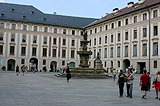 Prague Castle Picture Gallery holds a vast collection of valuable works of art. Yesterday the colection was enriched by four newly discovered works of art created for Rudolf II. They are borrowed from a private collector from abroad for one year.
"These unknown works of art are displayed for the first and maybe the last time. The works of art return to the place they were created for 400 years later," says curator Magda Machkova.
Visitors can admire now two paintings by Flemish painter Bartholomeus Spranger, one painting by German paintor Hans von Aachen a bronze statue by Dutch sculptor Adrian de Vries. The entrance to Prague Castle Picture Gallery can be found on the II courtyard of Prague Castle.
Time Navigation
Newer articles:
Older articles: