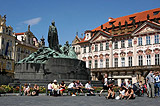 The statue of Jan Hus in Old Town Square that is now covered by scaffolding and a cover, is even in a worse condition than experts thought. The renovation of the statue will, therefore, take much longer than was expected. Until 2009.
Restorers do not have original plans of the statue or photographs from its reconstruction. They will use a camera probe to see what is inside and whether it is possible to get in there. They have to restore also the outer layer of the statue partly damaged by many people who climbed on it.
Many people object to restoring the statue during high tourist season for the most popular square is not so imposing any more. Restorers claim that they need good weather for their work.
Time Navigation
Newer articles:
Older articles: