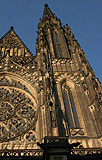 St Vitus cathedral is back in the property of the Czech state. The Prague Castle Administration waived the entrance fee to St Vitus Cathedral, even to its tower or the crypt. Crowds of people are now heading to the cathedral.
Since 5th October, when people could visit the most significant cathedral for free again, there are long queues before the main entrance. Everybody who wants to get in has to be really patient. The security agency that is responsible for the cathedral let only a restricted number of visitors inside the cathedral at a time.
People who take care of historical monuments are afraid that the masses of people in St Vitus Cathedral every day might slowly damaged the interior of the cathedral as it happened to the statues on Charles Bridge.
Time Navigation
Newer articles:
Older articles: