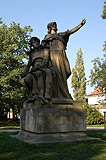 Czech scientists want to find the descendants of the first Bohemian kings, the Premyslid dynasty, that ruled in Bohemia until 1306. Thanks to the skeletal remains at Prague Castle they want to break the genetic code of old royal family.
The related blood will be compared with the samples in the Czech DNA database that was founded 5 years ago. According to the scientist, descendants of Premyslid dynasty might still be among us.
Old legend, first written by Cosmas, says that Premyslid dynasty started with the marriage of peasant Premysl with Libuse, the daughter of a Bohemian ruler. The probably most famous ruler of Premyslid dynasty was Prince Wenceslas, the patron of Czech lands, whose statue can be found in the upper part of Wenceslas Square.
Related Articles
Comments
Michelle Pochurek Bray said,

What is the web site to submit DNA for sampling? I think we may be related to the king! Your article mentions a dna database established in 2002. Your article doesn't say where we are to go in order to submit blood samples.
Thanks!
Time Navigation
Newer articles:
Older articles: