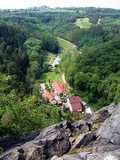 All those who would like to connect wandering in a lovely countryside outside Prague with an open-air theatre performance should write down to the date 2nd September in their diary the note Theatre in Divoka Sarka valley.
After the successful performances of Smetana's The Bartered Bride performed by the singers of National Theatre in Prague, the theatre will offer Dvorak's Rusalka this year. The main singer will be Helena Kaupova, the star of the last performances.
The open-air theatre was founded in 1913 and it played successfully until 1922. The tradition was revived two years ago. You can get there by trams 20 and 26 and bus 119 to the terminal stop Divoka Sarka.
Havel's play Odchazeni in London [September 18 2008, 09:40 AM]
New Havel's play Odchazeni is a big success [June 9 2008, 13:49 PM]
Vaclav Havel Play Odchazeni Premiere Tomorrow [May 21 2008, 17:53 PM]
Odchazeni: the new play by Vaclav Havel premiere soon [May 20 2008, 13:47 PM]
New play by Vaclav Havel [November 12 2007, 13:36 PM]
Theaters in Prague are threatened with bankruptcy [August 29 2007, 11:57 AM]
Vaclav Havel´s new play in Divadlo Na Zabradli? [August 24 2007, 09:32 AM]
Theatres in Prague with English subtitles [August 9 2007, 11:04 AM]
Faust in Vysehrad's casemate in Prague [June 29 2007, 13:10 PM]
Contemporary theatre in Prague with plays of Egon Bondy [May 17 2007, 09:47 AM]
Russian male ballet in Prague today [May 16 2007, 11:28 AM]
Open-air theatre in Divoka Sarka will be repeated [April 18 2007, 15:12 PM]
New play directed by Milos Forman in Prague [April 17 2007, 10:59 AM]
The world´s largest scenographic exhibition in Prague [March 28 2007, 11:55 AM]
Musical Angelika starts today [March 6 2007, 12:43 PM]
Golem in newly reconstructed Hybernia theatre [November 22 2006, 11:31 AM]
The Musical Theater in Karlin returns [October 6 2006, 09:44 AM]
Karlin Theatre has the curtain back [September 15 2006, 09:49 AM]
Finishing touches to reconstruction of Karlin Theatre [August 11 2006, 16:36 PM]
New Puppet Play Faust [August 10 2006, 15:03 PM]
Opera The Bartered Bride (Prodana Nevesta) in an open-air theatre [July 31 2006, 11:51 AM]
Time Navigation
Newer articles:
Older articles: