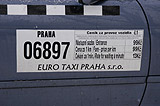 If you take a taxi on the Old Town Square in Prague, the taxi drivers will charge you 28 CZK per kilometer, even though a few weeks ago you would pay 99 CZK. Many Prague's taxi drivers decided to cease their protest against the pricing policy of the Prague's municipal authorities.
The Prague's municipal authorities issued an edict valid from the beginning of January that Prague's taxi drivers cannot charge more than 28 CZK per kilometer. Many taxi drivers were demonstrating against such an edict. They find it discriminating. The lawsuit between them and the municipal authorities has lasted for more than one year now.
Pavel Jelinek, the chairman of the trade union Taxi Praha claims that Prague municipal authorities does not act legally when they take away taxi licences. He gives an example that Prague's municipal authorities took away licences from nine taxi drivers but the Ministry of Transport gave them back.
Prague Municipal Council Lost to Taxi Again [November 22 2007, 08:54 AM]
Fair taxi in Prague from 'Fair Place' taxi stands [August 1 2007, 09:59 AM]
Taxi from Prague's Old Town Square for 28 CZK now [April 20 2007, 10:10 AM]
Prague's taxi drivers file a lawsuit [February 14 2007, 11:16 AM]
Prague's taxi drivers protest [January 18 2007, 11:06 AM]
How to avoid being rubbed by taxi drivers in Prague? [January 16 2007, 13:00 PM]
Fight against the overcharged taxi services [December 19 2006, 12:16 PM]
Changes in taxi services in Prague [December 12 2006, 14:15 PM]
Prague taxi is one of most expensive in Europe [August 23 2006, 12:18 PM]
Prague taxi will be more expensive [July 19 2006, 13:47 PM]
Time Navigation
Newer articles:
Older articles: