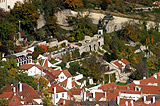 Palace gardens under Prague Castle attract more and more visitors every year. They offer not only a nice atmosphere with a splendid view of Old Prague and Lesser Town, but also many concerts of popular and classical music.
Last year the gardens were visited by more than 86.000 people. This year the complex of five historical gardens will offer especially Baroque music and chamber compositions of famous music composers that are related to Prague.
The gardens were founded approximately at the end of the 17th century. From the 70's of the 20th century no one took care of them and they devastated. The renovation and reopening was possible also thanks to the fund founded by British Prince Charles. He was charmed by the gardens during his visit of Prague in 1992.
Time Navigation
Newer articles:
Older articles: