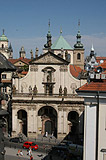 Klementinum is now the seat of the National Library in Prague. At least until the new building designed by Jan Kaplicky is built and approved. Then millions of book will move to the new building. Also the State Technical Library will leave the building in 2009. The director of the National Library Vlastimil Jezek still have big plans with Klementinum.
The building, the former Jesuit college, will be completely restored. Newly there could be an underground parking-site and a Baroque garden. New spare spaces could be used by The Association of Czech Booksellers and Publishers, Czech Centre of the International PEN Club, Vaclav Havel Library or Writers' Guild of the Czech Republic.
But the most interesting news is that people could visit not only Astronomical Tower, The Baroque Hall or Mirror Chapel, but also the Astronomical and Mathematical Halls which serve now as library offices.
Time Navigation
Newer articles:
Older articles: