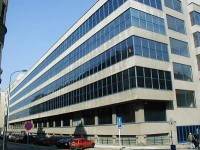 The National Gallery in Prague will be open this Wednesday between 15:00 and 20:00 for free. Visitors can see all the permanent exhibitions in any of the buildings of the National Gallery in Prague.
The gallery will be also open on Tuesdays 1st and 8th May, which are officially the national holidays in the Czech Republic. People can visit the gallery between 10:00 and 18:00, however, this time they have to buy a ticket.
The most visitors are expected in the Trade Fair Palace where is now a contemporary exhibition of furniture design and architecture. The Trade Fair Palace also contains two significant paintings by Dutch artist Piet Mondrian (until 17th July 2007). Vlado Milunic, the co-author of the Dancing House, will talk about the construction of the famous building in Trade Fair Palace on Wednesday 2nd May at 16:00.
Related Articles
Time Navigation
Newer articles:
Older articles: