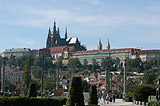 According to the latest study of Jones Lang LaSalle monitoring the Middle Europe markets, Prague is the sixth most popular European tourist destination.
More than 90% of visitors accommodated in Prague come from abroad. The large number of hotels offering accommodation in the Czech capital will be increased by three more this year, the most significant will be, according to Jones Lang LaSalle, Rocco Forte (5*) with 101 hotel rooms.
Even though Prague is the most popular Czech destination, more and more tourists visit other destinations in the Czech Republic. The second most popular is the famous spa town Karlovy Vary, then the South Moravia region. The Czech Republic was visited by more than 6,4 million foreigners in 2006.
Related Articles
Time Navigation
Newer articles:
Older articles: