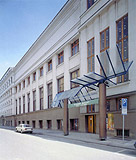 The exhibition of contemporary Czech art in the Municipal Library in Prague has an ironic name "Gross Domestic Product". It reflects the present society – the consumerism, rationality and economy, which rule the world.
The works of art parody the system of consumerist values, mocks it and create metaphors, provoking to look at the themes from a different point of view. There are references to aspects of our everyday life, and the metalanguage of art transforms them so that we can see through them.
The exhibition is organized by the City Gallery Prague. It is situated in the 2nd floor of the Municipal Library in Prague at the Marianske namesti 1 (square). The main entrance to the gallery is from the Valentinska Street.
The exhibition starts today and it runs till 19th August 2007. The admission is 120,- CZK, reduced admission is 60,- CZK. It is open from Tuesday to Sunday, 10 am – 6 pm.
Time Navigation
Newer articles:
Older articles: