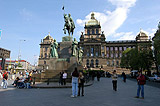 About 5,000 people took advantage of the International Days of Museums and Galleries and visited several museums and galleries in Prague that were open for free last weekend. Most of the people visited the main building of the National Museum at the top of Wenceslas Square.
One of the biggest attraction at this museum is the exhibition The Hunters of Mammoths that presents the prehistory in the Czech lands. Visitors could exceptionally take a photograph of the most precious item of the exhibition – The Venus of Dolni Vestonice. The museums offered a rich additional programme.
Another chance to visit museums and galleries in Prague for free will be on 16th June 2007 during the Museum Night. Museums and galleries will be open till late at night to create a special atmosphere.
Johannes Kepler museum to open in Prague [January 26 2009, 09:23 AM]
Czech National Technical Museum Reconstruction [October 2 2008, 17:26 PM]
Growing Interest in Industrial Sights – Prague builds modern Industrial Museums [August 5 2008, 15:57 PM]
The National Museum closes many departments during summer [July 24 2007, 10:06 AM]
Don't miss museums in Prague for free [May 21 2007, 10:05 AM]
Langweil's model of Prague on display again [April 12 2007, 16:19 PM]
Twelve museums in Prague with one card [March 26 2007, 14:36 PM]
Langweil model of Prague will be displayed again [March 23 2007, 16:43 PM]
Main building of the National Museum temporarily closed [March 15 2007, 09:58 AM]
Langweil model of Prague will be digitized [February 7 2007, 13:42 PM]
Reconstruction of the National Museum [December 14 2006, 13:38 PM]
Museum complex on Wenceslas Square [November 15 2006, 11:22 AM]
National technical museum will be closed for year and a half [September 6 2006, 16:34 PM]
A dinosaur might be coming to Prague [July 28 2006, 11:05 AM]
National museum falls [July 12 2006, 21:35 PM]
Time Navigation
Newer articles:
Older articles: