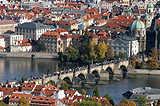 Since the 1990's there have been discussions about the necessity to reconstruct one of the most visited monument, Charles Bridge. Now the experts all agree that the reconstruction of Charles Bridge is inevitable and should start as soon as possible. Water is coming inside the bridge and causes big problems.
Even though it was announced several times that the reconstruction would start at the end of last year or in spring this year, nothing happened. Now the city wants to wait until the end of the celebrations of the 650th anniversary of the bridge.
The reconstruction will cost 100 million CZK, it may take up to 10 years. The bridge won't be closed during the works, only some parts won't be accessible.
Time Navigation
Newer articles:
Older articles: