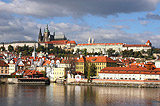 The most popular monument in Prague, Prague Castle, will be completely closed to the public next Tuesday 5th June 2007. The reason for that is the visit of the American president George W. Bush. Bush will have most of this political meetings just at Prague Castle.
Together with the Prague Castle, the street around it will be closed as well. If the president decides to go for a walk, people will be advised not to open windows or do any quick movements. One of Prague streets, Evropska, the one that connects the Prague airport with the centre of the city, will be closed as well.
The 850 people around the president will be accommodated in Hilton hotel, the place where Bush will stay is due to security reasons secret.
Related Articles
Time Navigation
Newer articles:
Older articles: