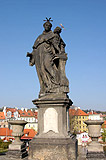 The security camera system on Charles Bridge has already brought results. The system alarmed the police officers 311 times in the first two months.
The alarm was set off mostly by tourists who tried to climb to the pedestal of the statues in order to make the best pictures on the bridge. However, the police also caught several vandals who tried to damage to statues.
The system was installed on the bridge in April this year. The reason for an increased security reasons is the damage of the inscription on the statue The Crucifix and the Calvary in January this year, later found on the bottom of the river.
Related Articles
Time Navigation
Newer articles:
Older articles: