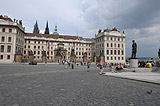 The Czech Railways Company announces that due to the visit of American president George W. Bush the passengers travelling by train and later by bus Airport Express to the airport should expect delays on Monday afternoon and evening. The timetable of Czech Railways might change that day
Also flights from/to Prague via Prague International Airport Ruzyne might be delayed on Monday evening and Tuesday evening. During the landing/taking off of the Air Force One, the the air traffic will be interrupted. Passengers are, therefore, advised to come to the airport at least 90 minutes before the departure.
Evropska street leading to Prague Airport will be contemporary closed, the best way how to get to the airport is to go by metro yellow line B to the terminal Zlicin and than continue by bus no. 100.
Prague citizens living or working nearby the area of Prague Castle and Hradcanske namesti will be allowed to this area just after showing a document proving it. The Prague Castle and the nearby area will be closed for everybody else on Tuesday between 6:00 and 15:00.
Related Articles
Time Navigation
Newer articles:
Older articles: