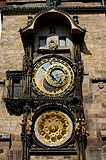 One of the dominant of the Old Town Square, over 600 years old Astronomical Clock stopped during the visit of American president George W. Bush on Tuesday. In the last few days it broke down several times.
Rather than the arrival of the American president the clock reacted to the changes of the temperatures outside. Most of the 350 components of the clock machine are still original and very sensitive to weather.
As the visit of the American President closed Prague Castle for almost two days, the castle was "attacked" by thousands of tourists yesterday. More than 4,500 people visited the short tour of Prague Castle from the morning till two o'clock in the afternoon. Prague Castle is the most popular tourist attraction in Prague, visited yearly by about 5 million tourists.
Time Navigation
Newer articles:
Older articles: