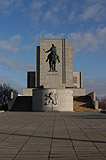 As we have already informed, the Vitkov Monument on Vitkov Hill is going to be completely reconstructed to turn into a modern history museum holding an exhibition The Crossroads of Czech Statehood. The monument should be ready in two years.
Five crossroads will remember the modern history of the Czech Republic. The first crossroad will be devoted to the foundation of the Czechoslovakia in 1918, the others will focus on the German occupation, political trials in the 50's, the Prague Spring and the Soviet occupation in the year 1968 and the Velvet Revolution.
Among the exhibits will be bloody shirts of parachutists Kubis and Gabcik, the assassins of Heydrich, or the original Charta 77, that was confiscated from Vaclav Havel by the State Police. Now it's the part of the National Museum collection. Visitors will also see the lab where scientists took care of the embalmed body of Clement Gottwald.
Time Navigation
Newer articles:
Older articles: