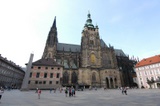 Four concerts of classical music will resound the III courtyard of Prague Castle and will offer a great atmosphere as well as good acoustics. The concerts are held under the auspices of the First Lady Livia Klausova.
The first and the last concerts will be performed by Prague Symphony Orchestra, conducted by Jiri Kout. The first concert (28th – 29th June 2007) will present the composition by Carl Orff Carmina Burana, the last one (9th September 2007) Dvorak's Symphony No. 9 "From the New World" (Op. 95).
The Philharmonic of Hradec Kralove conducted by Ondrej Kukal (25th July 2007) will perform Smetana's Vltava and Vysehrad and Dvorak's Slavonic Dances. The third concert (21st August 2007) will commemorate the 21st August 1968 (occupation of the Czech Republic by armies of the Warsaw Pact). The Czech Chamber Philharmonic Orchestra of Pardubice conducted by Leos Svarovsky will play Schubert's Symphony No. 6 in C Major and Mendelsohn – Barthody's Symphony No. 4 in A Major "Italian".
Prague Spring 2009 Ticket Sale Starts Today! [December 12 2008, 15:26 PM]
Tommy Emmanuel C.G.P. & The Eve Quartet Prague – Guitar across genres [November 20 2008, 15:44 PM]
Vanessa Mae plays again for Prague [September 25 2008, 15:47 PM]
Strings of Autumn Prague [September 12 2008, 11:31 AM]
Summer celebration of old music - Alla Polacca [August 1 2008, 10:03 AM]
Unique Classical Music Concert at Prague Castle [July 22 2008, 13:50 PM]
Biedermeier Arts and Culture Exhibition now with concerts [July 17 2008, 09:55 AM]
Opera Mozart at The Estates Theatre [July 9 2008, 15:45 PM]
Classical Music at the Prague Castle [May 29 2008, 12:28 PM]
Violin Star heading to Prague [March 13 2008, 13:44 PM]
Czech Philharmonic Concert [February 29 2008, 13:28 PM]
Smetana and Tchaikovsky in Prague [January 29 2008, 17:06 PM]
Czech National Symphony Orchestra Concerts [September 27 2007, 09:58 AM]
Classical music festival Young Prague has started [August 27 2007, 09:53 AM]
Violinist Sporcl on tour with Dvorak´s music [August 24 2007, 15:59 PM]
Musical plays in the Museum of Antonin Dvorak [August 9 2007, 13:02 PM]
12th International Organ Festival in Prague [August 8 2007, 11:35 AM]
Prague Music Festival 2007 [August 1 2007, 16:44 PM]
Svetlana Portnyansky in Prague's Spanish Synagogue [July 31 2007, 14:37 PM]
Carmina Burana Open Air Opera in Prague [July 26 2007, 13:40 PM]
Symphonic concerts at the III courtyard of Prague Castle [June 11 2007, 14:05 PM]
Concerts of classical music in Prague this weekend [June 1 2007, 16:09 PM]
Birthday of Czech cardinal: services and a free concert [May 18 2007, 12:40 PM]
National Theatre in Prague celebrates 400 years of opera [February 16 2007, 12:46 PM]
A Great Night of Spanish Music in Prague [February 13 2007, 15:46 PM]
Time Navigation
Newer articles:
Older articles: