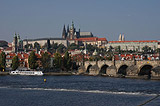 From next Monday people living in the centre of Prague (Prague 1) can use a new means of transport to get from one river bank to the other. Small boats will take them to the other side of the river near the Charles Bridge for free.
Prague inhabitants don't have to walk over the bridge which is crowded by tourists. The sail on the boat with a canvas roof will take about 20 minutes and will include a refreshment. The free transport will be available for Prague 1 dwellers between 11:00 and 12:00 and 18:00 and 19:00 and at the weekends at 10:30, 11:00, 18:00 and 19:00.
Inhabitants of other parts of Prague and tourists can travel as well, however, the sail will cost them 290 CZK. The city also plans to renew the water transportation between Slovansky, Strelecky and Detsky Islands.
Related Articles
Time Navigation
Newer articles:
Older articles: