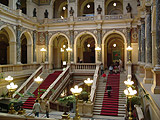 Already this weekend, on Saturday 16th June to be exact, you can visit many museums and galleries for free or for a symbolic price during the Prague Museum Night. Besides current or long-term exhibition, there is a rich additional programme in all the institutions.
Visitors can see e.g. the newly opened Museum of Charles Bridge showing the history of this famous monument, the halls of the National Library in Prague, or exhibitions in one of the buildings of the Prague City Gallery.
As for the additional programme, the Rudolfinum will offer concerts of Dvorak's symphony performed by the Czech Student Orchestra conducted by Marko Ivanovic (starts at 20:30 and 22:30). Police Museum will show police motorcycles or Sherlock Holmes cases. You can chose from more than 70 events that evening.
There is a free transportation between the institutions. More information about the institutions, their programme and the transportation can be found at www.muzejninoc.cz or in a form of a leaflet in front of the National Museum and Rudolfinum tomorrow and on Saturday.
Related Articles
Time Navigation
Newer articles:
Older articles: