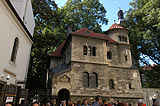 Ruth Ellen Gruber, the author of National Geographic Jewish Heritage Travel: A Guide to Eastern Europe will present this illustrated book in the Jewish Museum in Prague at 18:00 today.
The book summarizes almost 20 years of Gruber's exploration of Jewish heritage in cities, towns and remote villages in eastern and central Europe. The presentation will be given in English with Czech interpretation. The entrance fee is 20 CZK.
The presentation will take place in the Education and Cultural Centre (Maiselova 15 street) of the Jewish Museum situated in the heart of former Jewish quarter across from the Jewish Town Hall and the Old Jewish Cemetery.
Related Articles
Time Navigation
Newer articles:
Older articles: