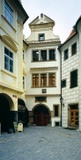 An interesting photography exhibition starts today in the House at the Golden Ring near the Old Town Square in Prague. There is a retrospective of Bohumil Krcil – an exile Czech photographer, whose works captured atmosphere of several different countries around the world.
Krcil´s photographs document for example Afghanistan before the invasion of the Soviets, life in the Indian part of Himalayas with its hashish culture, or Manhattan of the ´80s. His New York photographs "Say No to Drugs" were well known around the USA.
You can also see Krcil´s correspondence and two documentaries about him at the exhibition. It is organized by City Gallery Prague and it will last till 16th September 2007. The admission is 80,- CZK, reduced 40,- CZK.
Prague Wenceslas Square exhibition [October 13 2008, 15:49 PM]
Unique Documentary of August 68 Russian Invasion to Prague [August 15 2008, 15:52 PM]
Czech Pes Foto – Dog Photography with an attitude [July 30 2008, 11:38 AM]
Exhibition of Various Faces of the Metropolis [July 25 2008, 08:31 AM]
ALIVE Animal photos Exhibition in the centre of Prague [June 13 2008, 15:51 PM]
Prague of Many Faces – Photographs exhibition at Prague Castle [May 15 2008, 15:34 PM]
Gregory Crewdson photo exhibition [March 11 2008, 15:56 PM]
Half a century of the Prague Castle photography exhibition [November 16 2007, 18:24 PM]
Jindrich Streit Black and White photography exhibition Prague [November 15 2007, 09:02 AM]
Czech Press Photo awards 2007 [October 18 2007, 12:00 PM]
Explosive Roman Signer and his Travel Pictures in Prague [September 20 2007, 16:00 PM]
World Press Photo 2006 in Karolinum [September 14 2007, 16:02 PM]
Prague hosts World Press Photo 2007 [September 13 2007, 14:38 PM]
Kolbaba's exhibition at Prague Airport prolonged [August 31 2007, 15:06 PM]
Prague Castle in Photographs 1939 - 1989 [August 23 2007, 09:22 AM]
Gallery in the train comes to an end [August 16 2007, 14:51 PM]
Look animals in the eyes - exhibition in Prague [August 15 2007, 09:55 AM]
'The Roof of Africa' in Prague's New Town Hall [August 13 2007, 11:39 AM]
Large photographs of gardens of the world in Prague [August 8 2007, 14:41 PM]
The Magic of Eastern Africa in Prague [July 31 2007, 13:10 PM]
Sport Photo 2007 in Prague [July 24 2007, 16:46 PM]
Exhibition of photographs in the Old Town Bridge Tower in Prague [July 17 2007, 15:33 PM]
Drawn By Light exhibition in Vysehrad Gallery in Prague [July 11 2007, 13:05 PM]
Maximum Photography in the gardens of Prague Castle [June 26 2007, 15:09 PM]
Photographs with a flavour of faraway countries [June 20 2007, 09:46 AM]
Time Navigation
Newer articles:
Older articles: