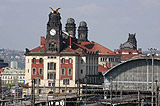 The public transport in Prague will change a lot, when the new railway tunnels will be built under the Vitkov Hill. Now it seems, that these tunnels will be finished much sooner, than was expected – probably already at the end of 2008.
The new railways will be much used for travelling within Prague, which is not usual at the present time. The tunnels will connect the Main Railway Station (Hlavni nadrazi) and Masarykovo nadrazi with districts in the north of Prague – Liben, Vysocany, Holesovice. The trams and metro should therefore be not as overcrowded, as they are now. The new railways will also be the fastest way to travel from one end of Prague to the other.
It is the most important railway building in Prague since the World War II. The building company Skanska promises, that people will have the chance to try the new railways already next year.
Prague Public Transport Trains Gaining popularity [February 4 2009, 11:42 AM]
Unique Bohemian Train for the Rich [December 11 2008, 17:55 PM]
Orient Express Now in Prague [October 10 2008, 13:33 PM]
Czech Railways – Tickets in grocery shop [September 25 2008, 09:55 AM]
The Prague main Train Station Hlavni Nadrazi may not be accessible [June 4 2008, 09:55 AM]
Reconstruction of Prague Main railway station underway [December 3 2007, 09:42 AM]
No smoking in Czech trains since December [August 29 2007, 16:04 PM]
First class in Pendolino trains will be more expensive [July 30 2007, 13:42 PM]
Masaryk railway station in Prague will be closed during summer [July 2 2007, 11:40 AM]
New railway tunnels in Prague already in 2008 [June 21 2007, 12:10 PM]
Czech Railways has changed the timetables [June 11 2007, 12:23 PM]
Czech Railways introduce new types of reductions [June 7 2007, 12:48 PM]
Orient Express arrives in Prague [April 19 2007, 14:07 PM]
Derailed train blocked the railway transport [February 19 2007, 11:07 AM]
Polish trains cannot enter the Czech Republic [January 5 2007, 11:16 AM]
New time table of Czech Railways [November 23 2006, 11:35 AM]
Faster through Prague by trains [October 2 2006, 10:33 AM]
Trains will be faster than metro [September 19 2006, 08:26 AM]
Main station repair will be late [September 7 2006, 12:21 PM]
More train stops in Prague [July 11 2006, 14:16 PM]
Prague Main station will be strongly changed [May 17 2006, 18:06 PM]
Time Navigation
Newer articles:
Older articles: