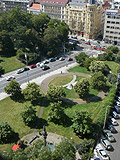 Charles Square is the largest square not only in Prague but also in the whole Czech Republic. What's more, it's also the biggest road junction, providing Prague inhabitants and visitors with the access to many parts of Prague.
But it will change soon. The tracks in Charles Square and its surroundings have to be maintain, that's why all trams running via Charles Square have to be rerouted. The service disruptions will start on 17th July in Palackeho square and will continue is Palackeho bridge and Charles square until Christmas.
Right now there are ten tram lines, two bus lines and metro yellow line B going via Charles Square. The routes of the trams and buses will depend on current works on the road and might change every week. Therefore we advice you to follow the web pages of the Prague Public Transport Company at www.dpp.cz for up-to-date information.
Time Navigation
Newer articles:
Older articles: