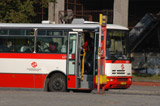 This Saturday two-month holidays start for the children in the Czech Republic. Also from that day there will be new timetables for Prague public transport. The new timetables will be displayed from 27th to 30th June, even though they start to be valid from 30th June.
The public transport service during the holiday starts for metro on 30th June and finishes on 31st August 2007. At the line A only every other train will terminate at the last station Depo Hostivar from 7:00 to 17:30. At the line B, every other train will run in the route Nove Butovice – Ceskomoravska from 6:45 to 8:30 and Smichovske nadrazi – Ceskomoravska from 8:30 to 16:00.
The tram holiday service starts on 30th July and finishes on 2nd September 2007. The intervals between two trams will be prolonged by about 2 minutes. Lines no. 7 and 13 will be out of service. Many tram lines will be rerouted during many service disruption during the summer.
The bus holiday service will be valid from 30th June to 31st August. Buses no. 143, 146, 168, 274, 277, 343, 465 and school buses will be out of service. Bus lines no. 155, 199 and 233 will be slightly changed.
Time Navigation
Newer articles:
Older articles: