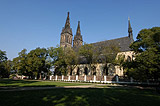 From 29th June to 2nd July 2007 and from 7th to 17th July 2007 you can visit one of the theatre performances of Goethe's Faust in Vysehrad directed by David Czesany. The performances will take place in the mysterious vault Gorlice inside the Vysehrad's Casemate.
The performances start at 20:00, tickets can be bought in Komedie theatre, Ticketpro or in the booking office of the Old Provosty in Vysehrad for 333 CZK and 366 CZK.
The Gorlice vault in Vysehrad's casemate contains several original statues from Charles Bridge. The permanent temperature in Gorlice is 16˚C (60.8 ˚F), which is the optimal temperature for the statues. Visitors are recommended to take warm clothes with them.
Havel's play Odchazeni in London [September 18 2008, 09:40 AM]
New Havel's play Odchazeni is a big success [June 9 2008, 13:49 PM]
Vaclav Havel Play Odchazeni Premiere Tomorrow [May 21 2008, 17:53 PM]
Odchazeni: the new play by Vaclav Havel premiere soon [May 20 2008, 13:47 PM]
New play by Vaclav Havel [November 12 2007, 13:36 PM]
Theaters in Prague are threatened with bankruptcy [August 29 2007, 11:57 AM]
Vaclav Havel´s new play in Divadlo Na Zabradli? [August 24 2007, 09:32 AM]
Theatres in Prague with English subtitles [August 9 2007, 11:04 AM]
Faust in Vysehrad's casemate in Prague [June 29 2007, 13:10 PM]
Contemporary theatre in Prague with plays of Egon Bondy [May 17 2007, 09:47 AM]
Russian male ballet in Prague today [May 16 2007, 11:28 AM]
Open-air theatre in Divoka Sarka will be repeated [April 18 2007, 15:12 PM]
New play directed by Milos Forman in Prague [April 17 2007, 10:59 AM]
The world´s largest scenographic exhibition in Prague [March 28 2007, 11:55 AM]
Musical Angelika starts today [March 6 2007, 12:43 PM]
Golem in newly reconstructed Hybernia theatre [November 22 2006, 11:31 AM]
The Musical Theater in Karlin returns [October 6 2006, 09:44 AM]
Karlin Theatre has the curtain back [September 15 2006, 09:49 AM]
Finishing touches to reconstruction of Karlin Theatre [August 11 2006, 16:36 PM]
New Puppet Play Faust [August 10 2006, 15:03 PM]
Opera The Bartered Bride (Prodana Nevesta) in an open-air theatre [July 31 2006, 11:51 AM]
Time Navigation
Newer articles:
Older articles: