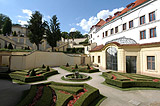 In less than a month Prague will host the 8th International Music Festival – Summer Festivities of Early Music Prague. The aim of this annual music festival is to enrich the Prague's summer cultural life. The motto of this year's festival 'Journeying through the Centuries'.
The festival offers various historical styles performed on period instruments. The concerts take place in various historical monuments and interesting places of Prague (such as Brevnov Monastery, Vrtba Garden, Troja Chateau, etc.) which help create a special period atmosphere.
The first concert starts in the Congress Centre of the Czech National Bank on Saturday 14th July, the last one in ABC theatre on 8th August 2007. Tickets can be bought in the booking office of Collegium Marianum in Melantrichova 19 street, Ticketpro and Rokoko (Vaclavske namesti 38) and ABC (Vodickova 28) theatres. For more information about the festival, ticket reservations and the programme, click here.
Time Navigation
Newer articles:
Older articles: