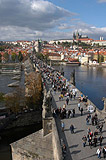 Only few days are left before the large celebration of the 650th anniversary of historical Charles Bridge that was founded by Charles IV on 9th July 1357 at 5:31. The municipal authorities have announced the programme of the celebrations, even though they won't be so monumental and will take two days only.
The programme starts this Sunday in the Old Town Square by the tournaments of knights, the presentation of period handicrafts or dance performances. The most important part of the programme will start in the first minutes after midnight and will last until the morning. The foundation stone of the bridge will be blessed exactly at 5:31.
During the evening, the statues on Charles Bridge will come to live and will tell stories about their history, visitors can also listen to the period music or watch the reconstruction of Prague's siege by Swedish troops in 1648.
On the occasion of the anniversary, a new stamp with Charles Bridge at night will be issued, as well as a commemorative 200 CZK banknote.
Jan Palach statue finally placed in the Czech Republic [January 20 2009, 15:12 PM]
This Thursday is the USSR Occupation Anniversary [August 19 2008, 11:44 AM]
Terezin Memorial Meeting influenced by 'Bronze Names Theft' [May 19 2008, 13:39 PM]
Charles University 660 Years Anniversary [April 8 2008, 17:49 PM]
Tropison Club celebrates four years [September 11 2007, 16:39 PM]
110 years of the Prague Public Transport Company [September 10 2007, 13:06 PM]
Celebrations of Indian independence in Prague [August 13 2007, 08:56 AM]
Roger Sanchez in Prague's club Mecca [August 3 2007, 16:47 PM]
Celebrations of Charles Bridge already this weekend [July 3 2007, 11:48 AM]
Charles Bridge celebrations start on 6th July 2007 [May 15 2007, 10:01 AM]
Prague City Police will celebrate in the centre of Prague [May 10 2007, 16:02 PM]
The Liberation Day in the Czech Republic [May 9 2007, 11:31 AM]
American jeeps parked in Prague's Kampa [May 3 2007, 12:43 PM]
Prague-Brevnov celebrates the 100th anniversary [April 25 2007, 11:38 AM]
Czech scouts prepare big celebrations for this Saturday [April 19 2007, 11:31 AM]
Velvet Revolution anniversary celebration [November 20 2006, 11:31 AM]
17th November - the national holiday in the CR [November 17 2006, 05:30 AM]
Events on 28th October [October 27 2006, 13:18 PM]
Celebrations on 28th October [October 19 2006, 18:05 PM]
Vaclav Havel is 70 tomorrow [October 4 2006, 10:32 AM]
100 years of horceracing in Velka Chuchle [September 29 2006, 12:02 PM]
Czech National Bank will host the aristocracy [July 26 2006, 14:41 PM]
A new component part into numismatists' collections [July 24 2006, 11:39 AM]
Havlickovy sady has 100 years [May 16 2006, 13:03 PM]
Sigmund Freud exhibition [May 15 2006, 17:02 PM]
Time Navigation
Newer articles:
Older articles: