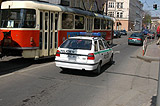 During the last six months of this year 17 trams derailed and 11 crashed with a car in Prague. The accidents were mostly caused by the drivers of the cars, but still, several accidents were made due to speeding.
The inspection has measured the speed of trams 10,564 times this year. 3.1 % of drivers exceeded the speed limit, some of them even by 10 km/h. The last control was made in Vltavska street, in Senovazne square and Charles Square in Prague. 6 out of 48 trams didn't follow the required speed.
The director of the Prague Public Transport Company Petr Blazek said that the drivers will be sanctioned. The last accident in Prague happened in Palackeho square in June due to the fact the driver of the derailed tram exceeded the speed limit 10 km/h by 9 km/h.
The traffic returns under Vysehrad sooner [November 26 2008, 11:54 AM]
Prague Public Transport (MHD) gets 40 billions CZK [September 25 2007, 14:01 PM]
Advantages and disadvantage of trams with Porsche design [July 25 2007, 10:10 AM]
Every sixth tram in Prague goes too fast [July 3 2007, 15:14 PM]
Two trams crashed in the centre of Prague [June 5 2007, 14:16 PM]
Prague will get more modern trams Porsche [April 24 2007, 12:39 PM]
Historical trams in Prague again from this Saturday [March 27 2007, 09:59 AM]
Every sixth passenger in Prague travels without a valid ticket [March 6 2007, 11:32 AM]
New tram in Prague for disabled and mothers with children [February 2 2007, 14:58 PM]
Good results of patrols in night trams [January 26 2007, 10:55 AM]
Conductors in night trams from tomorrow [January 15 2007, 13:36 PM]
Conductors on night trams in Prague [December 22 2006, 14:06 PM]
Travelling at night will be safer [November 6 2006, 09:58 AM]
Tram driver was riding drunk [September 12 2006, 15:48 PM]
A new tram got off the rails [September 8 2006, 12:07 PM]
Tram semaphore are obsolete [September 4 2006, 10:33 AM]
Trams returned to Vodickova street [July 26 2006, 10:14 AM]
Night trams will be more expensive [July 14 2006, 10:21 AM]
500 millions CZK for tram repairs this year [April 24 2006, 11:28 AM]
New Porsche tram has interior problems [April 11 2006, 10:25 AM]
Through Prague with new Porsche for less than 1 Euro [April 5 2006, 10:40 AM]
Time Navigation
Newer articles:
Older articles: