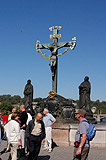 The gold inscription on the statue The Crucifix and Calvary on Charles Bridge is back. However, the inscription is not the original one, but a replica made by the same technological process, including fire gilding techniques.
The Hebrew inscription saying 'Holy, holy, holy is the Lord of Hosts' comes from the end of the 17th century. The original remains are placed in the Gallery of the City of Prague.
Last January the inscription was damaged by an unknown vandal who threw some parts of it into the Vltava river. To prevent such vandalism, 1"0 cameras connected with the police office have been installed":http://www.abcprague.com/2007/03/12/10-new-cameras-on-charles-bridge-in-prague on the bridge earlier this year.
Time Navigation
Newer articles:
Older articles: