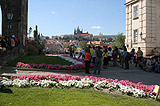 More and more police officers are able to communicate with tourist in foreign languages. At least these are the words of the spokeswoman of the Prague police Iva Knolova. According to her, younger generation in police forces have normally basic knowledge of foreign languages, especially English.
Still, if you can't make yourself understood, visit the police station situated in Na Mustku street in the centre of Prague. There you can find interpreters of the main world languages. For languages that are not so common, the police will call court interpreters.
The police also invited students to help them with translations of more difficult questions. The students assist the police officers in the centre of Prague every weekend in June and September and every day in July and August.
Traffic guards in Prague on horses [September 25 2007, 11:59 AM]
New device to reduce stolen cars in Prague [September 10 2007, 16:41 PM]
Police conference in Prague against pickpocketing [September 4 2007, 10:04 AM]
67% people are satisfied with Prague police [July 31 2007, 16:08 PM]
Who to ask the way in Prague? [July 4 2007, 16:53 PM]
GPS for policemen in the centre of Prague [July 2 2007, 09:50 AM]
Action against pickpockets and prostitutues in Prague [June 6 2007, 11:26 AM]
Prague police accused of ill-treatment of demonstrators [May 4 2007, 18:05 PM]
Police officer shot a pedestrian in Prague by accident [April 23 2007, 13:57 PM]
Police swoop at the Ministry of Defense [March 28 2007, 09:59 AM]
Prague lacks police officers [February 28 2007, 11:10 AM]
Recruitment campaign for Prague police officers [February 8 2007, 13:36 PM]
Safer Prague with more police officers [September 27 2006, 10:23 AM]
Pyrotechnists strikes [September 12 2006, 17:20 PM]
Prague has second drunken car [July 13 2006, 17:16 PM]
Policemen will keep an eye on zebra crossings [June 27 2006, 09:17 AM]
Prague police arrested international drug dealers [June 23 2006, 16:19 PM]
Drunk car transported 1000 people [June 9 2006, 12:13 PM]
Street policeman as a hero [June 8 2006, 11:08 AM]
Fines of smokers: 750 000 CZK [June 7 2006, 12:21 PM]
Police cleaned children playgrounds [June 2 2006, 11:37 AM]
Drug dealers has been arrested [May 31 2006, 10:42 AM]
Police on two wheels is training [May 10 2006, 11:20 AM]
A woman was beaten by policeman [May 2 2006, 18:26 PM]
Students help policemen [April 26 2006, 15:47 PM]
Time Navigation
Newer articles:
Older articles: